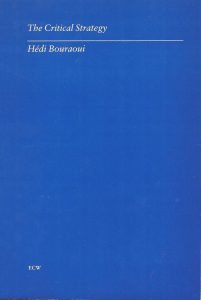 "Many critics in the past decade have talked about breaking the form of the traditional literary study. Bouraoui actually does it. He makes a significant contribution in his putting into practice the breakthrough called for in critical writing. He does it, basically, by refusing or at least testing, the traditional separation of critical writing from creative writing. He challenges the traditional separation of critic and artist.
The manuscript gives us new insights into specific authors. It suggests much more: it suggests a pluralistic approach that allows the complexity of individual authors or works or even genres to maintain their complexity in the face of criticism.
Ihab Hassan is one of the few English-language critics to make the kinds of experiments that Bouraoui makes in this manuscript. I find Bouraoui to be more successful than Hassan.
Bouraoui calls this book 'an experiment in genre.' I would relate it to works by such critics as Roland Barthes, in that it is avowedly experimental, with the intention of breaking traditional critical paradigms." – Robert Kroetsch, University of Manitoba
Éditeur: ECW Press, Toronto, 1983. 146 pp.
ISBN: 0-920802-60-5
Pour commander cet ouvrage, contacter: cmc@yorku.ca
Critique
"One aspect of major interest is the way in which Bouraoui generates a dialogue between English and French, North America and France." P.S., English Reviews Journal. 1 (May 1984).
"Using a trans-generic approach not unlike that of Charles Doria or Ihab Hassan, Bouraoui offers experimental responses to other avant-garde writers. Among them are John Cage, Frédéric Baal, William Burroughs, Michel Butor, and Samuel Beckett." Anon. Criticism of Modern Literature.
"Bouraoui's semiotic technique of code-switching permits him to convert discursive prose into poetry in an infinite substitutability so that virtually everything becomes a process of textualization. Using a post-structuralist aesthetic of écriture, he is able to engage not only traditional critical works but also literary texts or cultural artifacts." Pamela McCallum, English Studies in Canada. XI: 1 (March 1985).
"Instead of opposition and distance, the myths of clinical objectivity and impassive, reifying dissection, Bouraoui opts for a convergence of literature and criticism based upon (com) passion, inter-subjectivity and true, open, unfettered, exchange of meaning and being between creator and receiver. … Bouraoui's writing, whatever its strategy, is informed and unpretentious. It can be crisp and incisive, teeming and personal. . . . But it is crucially honest, available to any worthwhile insight regardless of theoretical perspective, and in that is more allied to life itself, to the swirling movement of all being than to system and reduction." Michael Bishop, The Dalhousie Review (n.d.).
"In Bouraoui's hands, the critical act becomes a multi-faceted, finely honed instrument that makes possible a dynamic, committed critical performance. There is here both promise and challenge for anyone concerned with the semiotic process in general or with language production in particular. If we are not simply to surrender to paranoia or passivity in a world where language is reduced to absurdity, both artist and critic can recognize the truth of Wittgenstein's dictum, 'The limits of my language are the limits of my world,' and refuse to accept that language has any limits." Robert Elbaz, Mentalités.4:2 (1987).
"Bouraoui has philosophical affinities with Heidegger, Nietzsche, and Husserl. He picks up where Ihab Hassan leaves off. While his approach may be creative, his mastery of the subject is impressive. This may be because a critic attacking the cultural status quo cannot afford to make mistakes. Bouraoui makes no errors and always delights in the play of his presentation." Karl Jirgens, Books in Canada. 13:2 (February 1984).
"Most of the essays in this collection demonstrate Bouraoui's poetic, iconoclastic practice. Often his creative or poetic essays are educated reactions to works by contemporary intellectuals such as Cage, Burroughs, and Lévi-Strauss. His critical or prose essays, notably the ones on 'médiatrix' and 'recent trends,' offer pertinent insights into his personal kaleidoscope of contemporary literary criticism." R.A. Champagne, World Literature Today. 3 (Summer 1983).
"This book mediates between art and reality, affording glimpses of artists such as William Burroughs, Helen Weinzweig, Lévi-Struass and Édouard Glissant and provides critical insights into their work. The emphasis is on experimentation in the realm of literature and criticism." Yorkgazette 13: 19 (April 29, 1983).